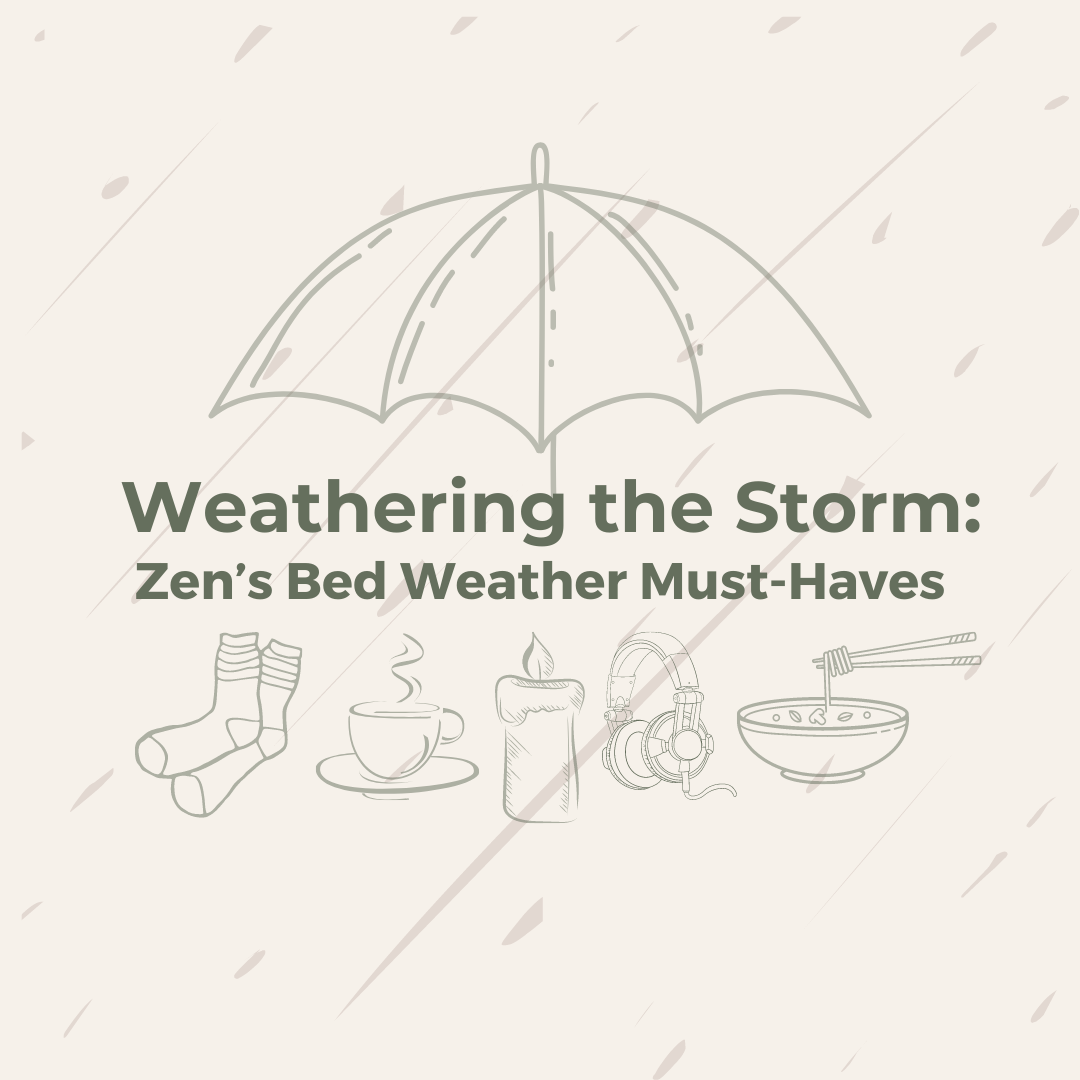 Weathering the Storm: Zen's Bed Weather Must-Haves
The rainy months are upon us along with another good reason to stay indoors. If the endless downpour has been a cause of stress, let this guide help you weather the storm and find your Zen.
The rainy months are upon us along with another good reason to stay indoors. If the endless downpour has been a cause of stress, let this guide help you weather the storm and find your Zen.
We've put together some cozy weather must-haves to help everyone feel a little more at ease. From loungewear to food and home favorites, we've gathered our team's recommendations for a comfortable time indoors. And of course, if you'd like to help out those severely affected by the storms, we've also included some typhoon relief operations for affected communities.   
Loungewear
First thing's first, coziness begins with what's wrapped around you. Here are a few homegrown favorites that offer pieces you're going to end up living in. 
First Home
Comfort and sustainability find common ground in First Home loungewear. This family-friendly line includes warm but breathable sets for you and your little ones. Not to mention, First Home also ensures guilt-free shopping through their eco-conscious product development and packaging. 
Kamani Tree
Freshly launched in June 2021, Kamani Tree boasts a versatile line of clothing that can be amped up for a day outside or, in our case, dressed down for a relaxed day at home. The Negros Occidental-born brand welcomes everyone—the playful, the laidback, and all that falls in between. 
For Keeps
For Keeps is home to all homebodies. They offer a range of locally designed, classic pieces that simply never go out of style. If you're looking to stay cozy in chic, matching sweats, then For Keeps is the place to be! 
Hearty Meals
If there's one thing to do at home, it's savoring a scrumptuous meal in your pajamas. Now that you've got the outfit covered, let's move on to awakening the palate! 
Ultramen
A chilly August afternoon is best spent in the kitchen, whipping up a steaming bowl of soup. Ultramen elevates that experience with their DIY ramen kits, giving you the satisfaction of quality, freshly cooked ramen from the comfort of your own home. If you're not sure what to go for, their Quick Cook Tonkotsu Ramen is a choice you certainly can't go wrong with.
Flowerboy
Not in the mood to cook? No problem! Fusion cuisine fantasy land, Flowerboy delivers non-traditional Asian food right to your doorstep. Our personal favorite is the Jumbo Blue Crab Omelette. Pick from a wide selection of rice meals, soups, and salads—or go crazy and get yourself a family set instead! It's the perfect way to have a lazy day at home.
Sweets
Our list of cozy weather must-haves leaves room for decadent bites too! If you're all about sweets and little treats, then you might enjoy these recommendations.
Cinnabuan
It's cinnamon buns and more—so much more. Cinnabuan has taken a classic dessert and transformed it into a whole family of fun twists and flavors. A few options to look out for are Cereal Milk and Oreo Loco (but if we're being honest, just try them all)!
Photo via @cinnabuan on Instagram
The Hungry Sans
Nothing warms up a cold afternoon like freshly baked pastries. That's why The Hungry Sans makes our list! Every day, they bake warm Cheese Puff Nibblers, Strawberry Nutella Puffs, 3-Cheese Spinach Pockets, and so many others—there's certainly a pastry right out of the oven for everyone! 
Something to Sip On
Paired with a snack or just on its own, a warm cup of tea or coffee is a no-brainer for cozy weather. If you're looking to try something new, then give these local cafes a shot!
Latitude Bean + Bar
Latitude Bean + Bar gives you the best of both worlds with aesthetics and flavor. Found in Malate, this specialty coffee shop offers lattes, cold brew, hot chocolate, tea, and more! An interesting pick is their Cinnamon Oat Latte. You can have your coffee (or non-coffee) fix delivered to you through Grab Food or PickARoo.
Tea Source MNL
Blankets on and pinkies up! Tea Source MNL is here to provide all your premium and artisan tea needs. Don't be intimidated by their wide selection of leaves and blends. They've made things easy by allowing you to shop either by type or by benefit, so that you know exactly what you're in for. We recommend their Chamomile Apple Tea, a relaxing blend that should help with stress relief.
Photo via @teasourcemnl on Instagram
To Set the Mood
Finally, to go the extra mile, here are some scented candle recommendations that will definitely set the mood. Light one up and complete the bed weather experience. 
Quatro Aroma
Warming up your home with a hand-poured candle from Quatro Aroma comes with a twofold advantage; for one, these scented candles have been thoughtfully crafted to be reminiscent of Filipino destinations we all know and love. Above that, these candles are made with intentionality; the brand works hand-in-hand with the Indigenous People of the Philippines by providing a sustainable source of livelihood and an empowering avenue for the IPs to practice their creativity. 
Ilka
Candles by Ilka is for those of you who like to think long-term. With sustainability as one of their top priorities, each Ilka candle is mindfully created with quality materials that are durable enough to be reused and upcycled when all the wax has burned out. The brand has also partnered with notable environmental initiatives, which means that, by shopping their collections, you're also taking a step in the right direction for the planet. 
Honorable Mentions
Feelings, Explained
Rainy weather is the ideal setting to feel all the feelings. Hosted by two wildly hilarious and deeply interesting women, Feelings, Explained is entertaining, heartwarming, and easy to follow—the perfect listen for a cozy day.
All is Well Playlist
Here are a few songs that just sound better with a little drizzle. We recommend playing this in the background as you enjoy a soothing self-care session with your All is Well favorites.
A Watchlist for Hiding Under Your Blanket
If you like a little thrill with your hot chocolate, then give these shows a watch! 
NCIS
Kendall Rae 
Criminal Minds
That's about it for our cozy weather must-haves. We hope you get to try a few of our recommendations, and if you do, let us know how they worked out for you in the comments! 
Stay safe, stay dry, and don't let the weather get in the way of a
Zen state of mind
.