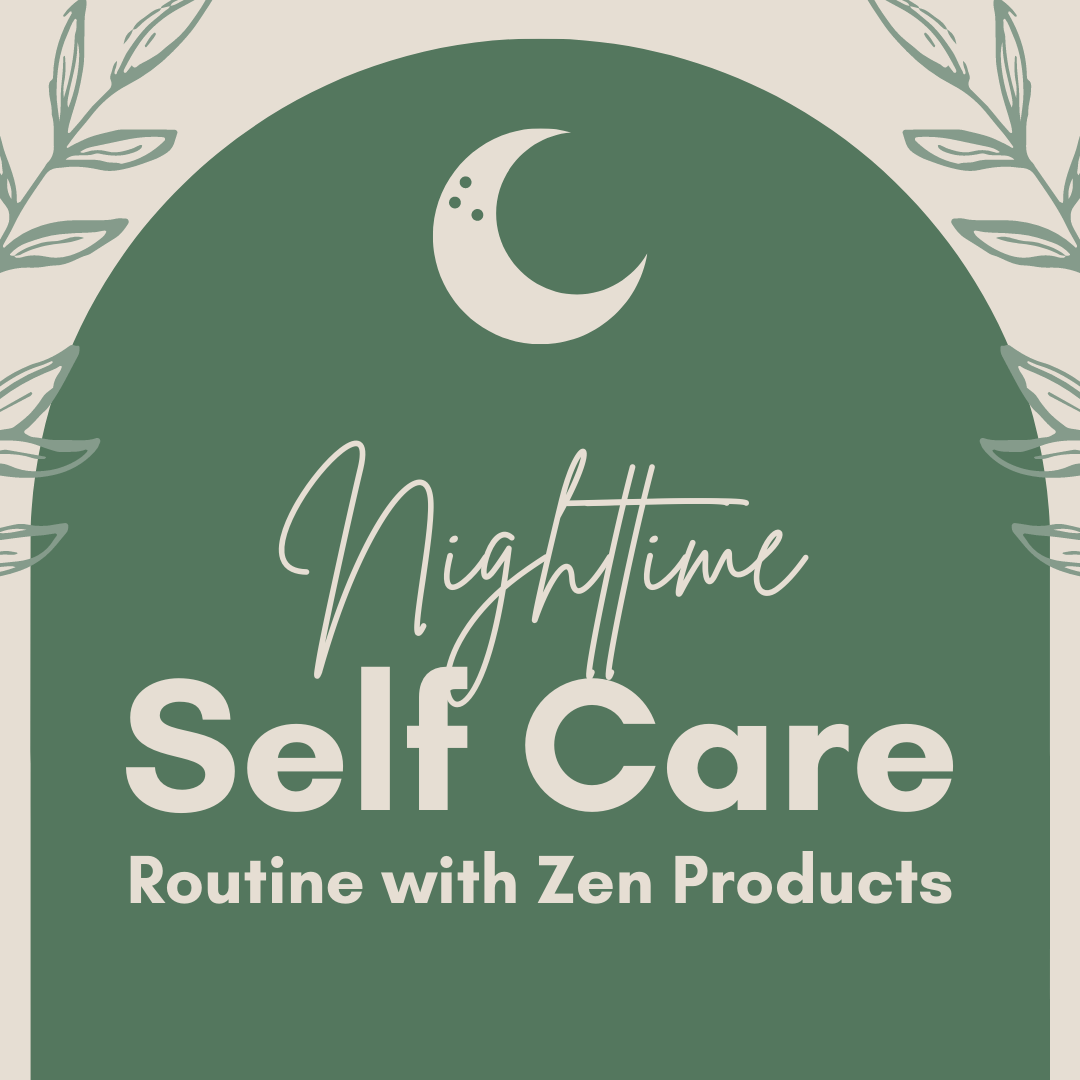 Nightly Self-Care Routine with Zenutrients Products
Our goal at Zenutrients is to help you make self-care a little more manageable. Here is a sample self-care routine using our products that you can take inspiration from. 
You've been working so hard for the past few weeks; have you taken some time to relax and ensure that you're taking care of yourself?

If you have, that's fantastic! We won't judge you if you haven't. We understand that self-care can be difficult. It's easy to get caught up in responsibilities and neglect your own needs. We've all been in that situation. Our goal at Zenutrients is to make self-care a little easier for you.

In a previous blog, we discussed how to begin a self-care routine as a beginner. This time, we're demonstrating a nightly self-care routine using our products that you can use as inspiration!
Here's an uncomplicated and undemanding self-care routine to help you relax:
You deserve to be pampered after a long day of work. Now that the sun is setting, it's the ideal time to unwind and indulge in some self-care.
1. Disconnect from your phone at least an hour before you sleep
Instead of being overstimulated by the screen, it will give you time to wind down and begin preparing for bed. When it's finally time to sleep, you'll probably feel less tired. And when you wake up, you won't be exhausted from staying up too late compulsively scrolling.

Remember, it's not just about getting into bed on time (though that's important!). It's also about allowing yourself to stop thinking about work, school, or whatever else is on your mind. Now that you've set aside some time to relax, why not try taking a bath, reading a book, or meditating?
2. Take a warm bath/shower
There's a lot to be said for a nice warm bath or shower. It's calming, cleansing, and feels fantastic. After a long day, take a bath or shower to relax your muscles and feel clean. Consider using our Virgin Coconut Oil Softening Soap for your body, and use Aloe Calendula Gentle Cream Wash (dry skin) or Argan Nourishing Facial Wash (combo/oily/normal skin) to your face for an extra relaxing night knowing that you'll go to bed with the softest skin.
Not sure what your skin type is and which products to use? Try our skin type quiz! 
Body scrubs do wonders for relaxation too! Get your scrub on with our Coffee Smoothening Body Scrub, the ideal shower companion for exfoliating and scrubbing away your worries while you pamper yourself The coffee scent will help you relax, and the exfoliating beads will leave your skin smooth and moisturized.

After you get out of the shower, put on your cozy pajamas and try out our Argan Softening Lotion for a relaxing sensation throughout, leaving your skin softer and smoother with a lovely lingering scent on your soft skin.
3. List down your day's accomplishments
Make a list of everything you did well during the day. Yes, even if they appear minor and insignificant. Tell yourself how proud you are of yourself. Even when there appears to be nothing to be proud of, that feeling can help you feel better about yourself. Giving yourself credit for all of your accomplishments is an important aspect of self-care.
4. Put on a soothing face mask 
In the course of a day, you have to deal with a lot: traffic, a slow internet connection, unexpected projects, and so on. As a result, it's critical to give your skin a break and allow it to relax. Our sulfate-free Argan facial cleanser washes the dirt and stress of your day away without stripping your skin dry, and if you'd like to smoothen, hydrate, and keep your skin refreshed after a long day, our Argan & Kelp Skin Recovery Cream is perfect for you.
While you have your face mask on, make your atmosphere cozier by pairing your skincare with aromatherapy. Our indulgent All Is Well Balm and calming Ginger Oil are ideal companions to your skin care to help you feel grounded while disconnecting from the stresses of the day. Rub a little on your temples or inhale deeply to feel your worries melt away.


When we work consciously on taking care of ourselves, it can appear to be a daunting task. However, by prioritizing what is most important to us and making small changes to our daily routine, we will find that self-care becomes easier and more natural. And, without a doubt, we will improve our quality of life, because self-care is essential for happiness.
Do you have a self-care routine? Comment below!