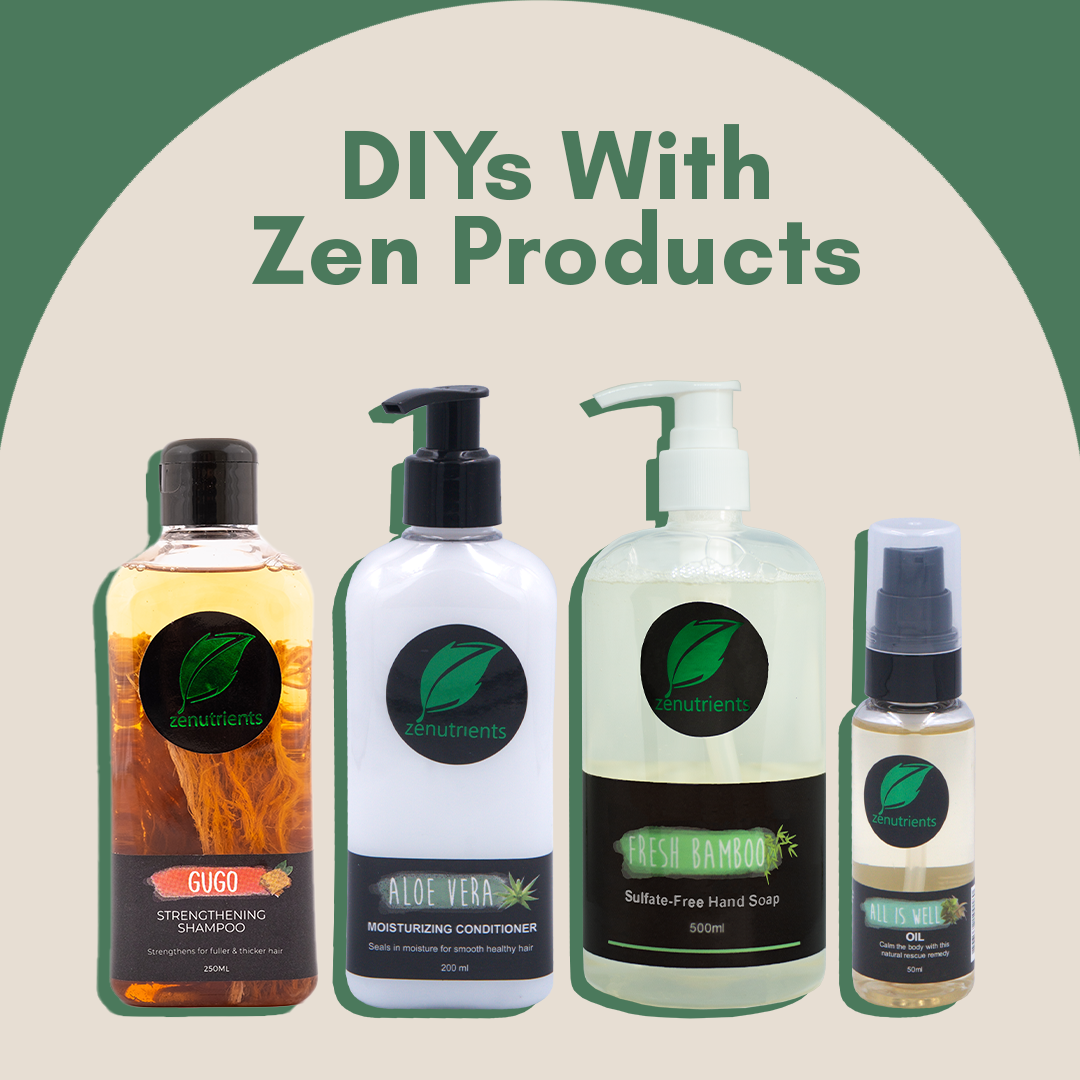 DIYs with Zenutrients Products
Did you know that some Zenutrients products are multipurpose? If you're wondering how you can DIY our products into something more resourceful and worthwhile at home, keep on reading!
With the holidays coming to a close, we're sure you received lots of gifts from all the Christmas and New Year's celebrations. Did you receive a lot of gifts like oils, soaps and shampoos? Have so many of them now that you have no idea how to make use of them all? 
Worry not, we've been there and done that. To give you a few ideas of how to get the best use of your holiday haul, we've compiled a short list of what we know can be done at the comforts of your homes to make those products more purposeful and useful. So if you're wondering how you can repurpose our products into something more resourceful and worthwhile, keep on reading!


Shampoo Hacks
Besides making your hair look and smell great, shampoo can have a lot of purpose. If you add in a tablespoon of baking soda, it can help reduce frizziness in hair!
Interested in coloring your hair but too scared to bleach it? You can achieve naturally lightened streaks with calamansi! Sounds crazy? Just squeeze in a few drops of calamansi onto your hair while shampooing and you will get some natural highlights after. How cool, right?
Or maybe you're an adventurous soul who loves to travel? We know all too well how squeezing everything into one bag can be a hassle. Want to reduce your toiletries? Double up your shampoo as a body wash! Two in one!
Conditioner Hacks
 
Step aside shampoo, conditioners can also level up the game. Need to get rid of body hair but shaving cream is too harsh for you? Try using conditioner as an alternative!
Conditioners don't just make your hair and skin soft but it can also soften your cuticles. Next time before you get a manicure, try mixing in a few drops of conditioner in water then use that mixture to soak your hands. Healthy cuticles in no time!
Looking to try out a new hairstyle? Conditioner is also great as a styling product! Use a little conditioner from mid to end of your hair to smoothen and get that soft, clean look.
Want to treat yourself a little bit after a rough day? Make your bath experience worthwhile by doing a DIY body scrub with conditioner! Just mix the conditioner with brown sugar, oatmeal or used coffee grounds, then you'll have a body scrub! So easy!
Hand Wash Hacks
To have some fun while still staying safe and clean this 2022, try pouring some hand wash into your bath (or a large palanggana works too) to make a fun bubble bath for you and your kids! This hack also works really well as a bubble solution. Kids, and kids at heart, would surely love and have fun with this!
If you're looking for a rinse-off scrub, you can also add brown sugar to your hand wash and scrub gently to get the best results. Thank us later. 
All is Well Hacks
Down to our last product, our ever-famous All is Well Balm and Oil can also be repurposed. Mix 1-2 tablespoons of All is Well Balm or Oil into about 200ml (think: a regular sized shampoo bottle) with some VCO for a DIY massage oil at home. It'll surely be relaxing!
If you're into scented candles lately then this tip is for you! Pour in a few drops of All is Well and Coconut oil. Light the candle to get your room into that calm spa zone.
Before we forget, you can also make your own repellant out of the All is Well. Pour in a few drops of oil with clean water in a spray bottle and you'll have a gentle repellant (It also works well as a nice room spray too). 
Did you find this list helpful? Will you try any of these hacks at home? Let us know in the comments below!