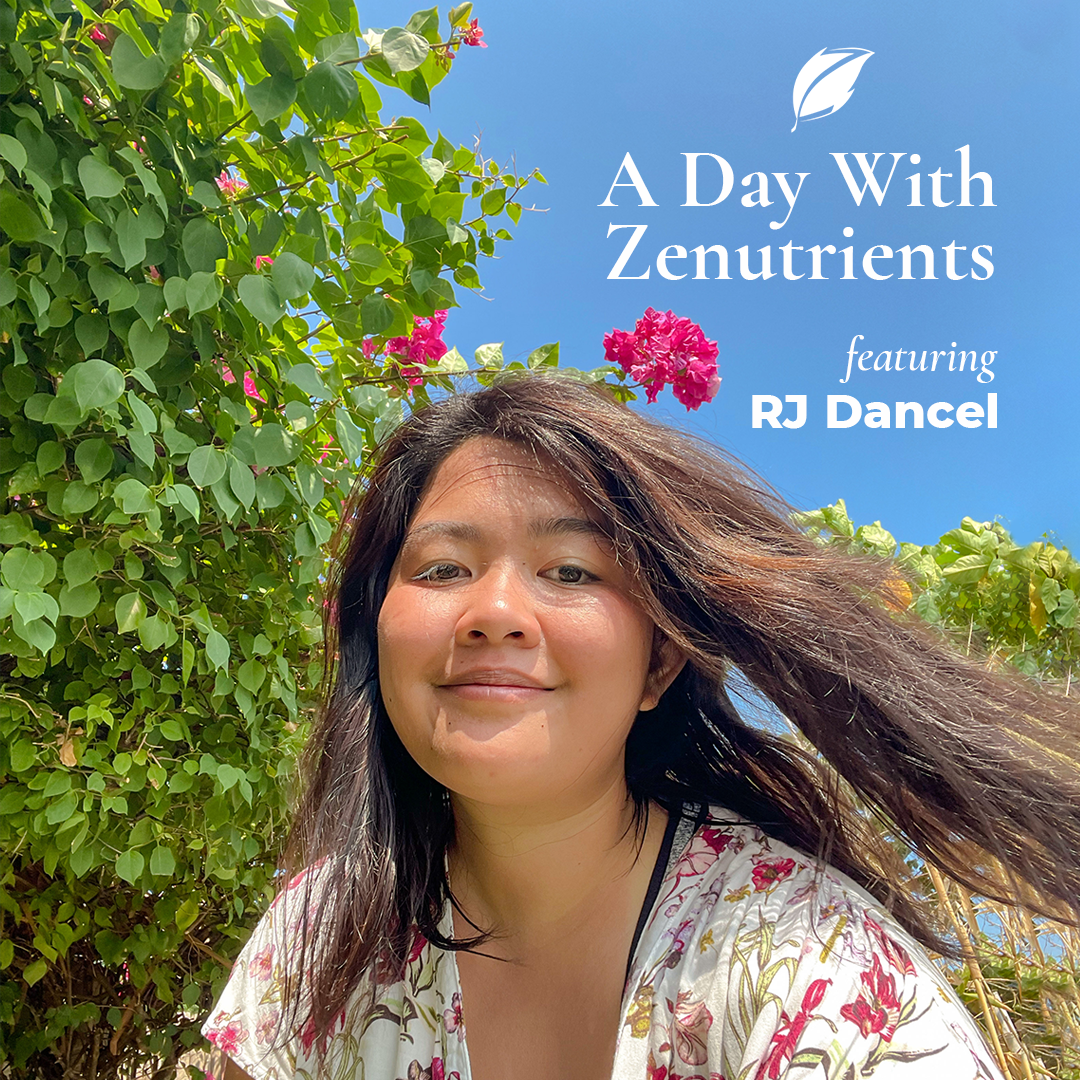 A Day With Zen featuring RJ Dancel
Here to talk you through what her day with Zenutrients looks like is one of our Zen Family, RJ Dancel!
Here to talk you through what her day with Zenutrients looks like is one of our Zen Family, RJ Dancel!
RJ Dancel (@rjrdancel) is a mom of 1 (and furparent to 5). ​​Before the pandemic, she and her family traveled a lot. They always believed that travelling is the best way to learn the world outside of what we know, and it's something she always wanted her son to be immersed in. But now, they're just at home (too scared to step out the door). They recently transitioned to homeschooling which has been a big adjustment with their busy schedules. In between, she works out, writes, paints, and does all sorts of things to keep herself sane.
Get to Know RJ More
Hi! I spend most of the day working as a social media exec. Sometimes, if there are opportunities, I do product photography and some copywriting work. Thankfully we're in a WFH setup (and honestly hope they keep it that way). With everything that's going on with the world, I have found a good rhythm to attend to all the things I need to do. Plus more time with my family!!
Zen Fitting into her Lifestyle
I actually discovered Zenutrients many years ago when I attended this blogging workshop. I remember Angela gave this incredible talk about her life as a mom and entrepreneur and how passionate she is about providing good quality products that are natural and sustainable. The next day, I went to the nearest Zenutrients branch I could find and tested it out. I was amazed by the quality and affordability. Like pwede pala yun, good natural cruelty-free products that don't break my wallet!
Personal Faves (Beauty and Skincare Go-tos)
It used to be the Muscle Balm (I have trouble with body pains and it's helped me get through all of it with ease) but then I found out, phase out na :( But luckily found a great alternative: All is Well Balm. It's essentially portable aromatherapy. Apart from rubbing it when I have body fatigue, I also inhale the scent whenever I get migraines… or when I need to relax amidst all my mom duties.
I use it every day and make sure I never run out of it at home. I have a problem with my scalp (dermatitis/psoriasis) so commercialized shampoos & conditioners don't work on me. When I found out about the Gugo Shampoo and Gugo Conditioner, it was perfect for my needs. Apart from less hair fall, my scalp didn't act up as much.
I have a scalp condition... think of it as dermatitis/psoriasis balled up into one. Growing up, my scalp was always bad (and it didn't help that I colored my hair a lot). So I needed something to treat it. My hair usually gets so tangled up with the medicated shampoos so to have a conditioner that complemented well with it helped so much. I usually alternate it with the Gugo Shampoo since the medicated one can only be used 1-2x a week.
Another crowd favorite at home is the Lavender Hand Soap. Being sulfate-free means anyone at home can use it... especially my son. It's funny how he washes his hands and pauses for a moment to just appreciate how good the soap smells and feels on his hands. He even said, "Mommy, we need to always have this at home." I prefer the Fresh Bamboo Hand Soap one, though Lavender won over my boys. 
My partner has sensitive skin so when it comes to body wash, we use only those that help treat his skin. We trust the Tea Tree Balancing Soap because of its anti-inflammatory and anti-microbial properties. When used as a face soap, I also noticed how it reduced his acne scars and made his skin smoother and clearer.
Last but not the least, what is a home without the Spahhnitizer? With all the pandemic madness and the threats that come with the times, it's of utmost importance that everything is well-sanitized, from our things down to our hands. I have the Spahhnitizer in every part of our (tiny) home so that when any of us have to go outside (errand runs), or when my son is all dirty from hanging out with our fur babies, we use the Spahhnitizer! I also work out every day, so after using my yoga mat, I spray this all over to keep it nice and clean! 
We have this in Lavender also (obviously the preferred scent in the family)
Honestly, I've yet to try Zenutrient's other products. There's a lot of it and I love how it caters to specific needs. Pero after all the hoarding I did, I need to finish what's here before restocking! No regrets because I love Zenutrients and over the years, it has become a household essential.
Did RJ Dancel help you find products that would fit your family's needs? Let us know in the comments below!
Yay! You made it at the end of the blog! Here's our gift for you, a voucher for 15% OFF (with ₱500 minimum spend) on all of RJ's mentioned Zenutrients products! Use the code ADAYWITHZENJ and enjoy shopping! Valid until October 31, 2021!
Curious of how others from the Zen family go through their day? Check out the day in the lives of Anne Bella and Christine Dychiao!