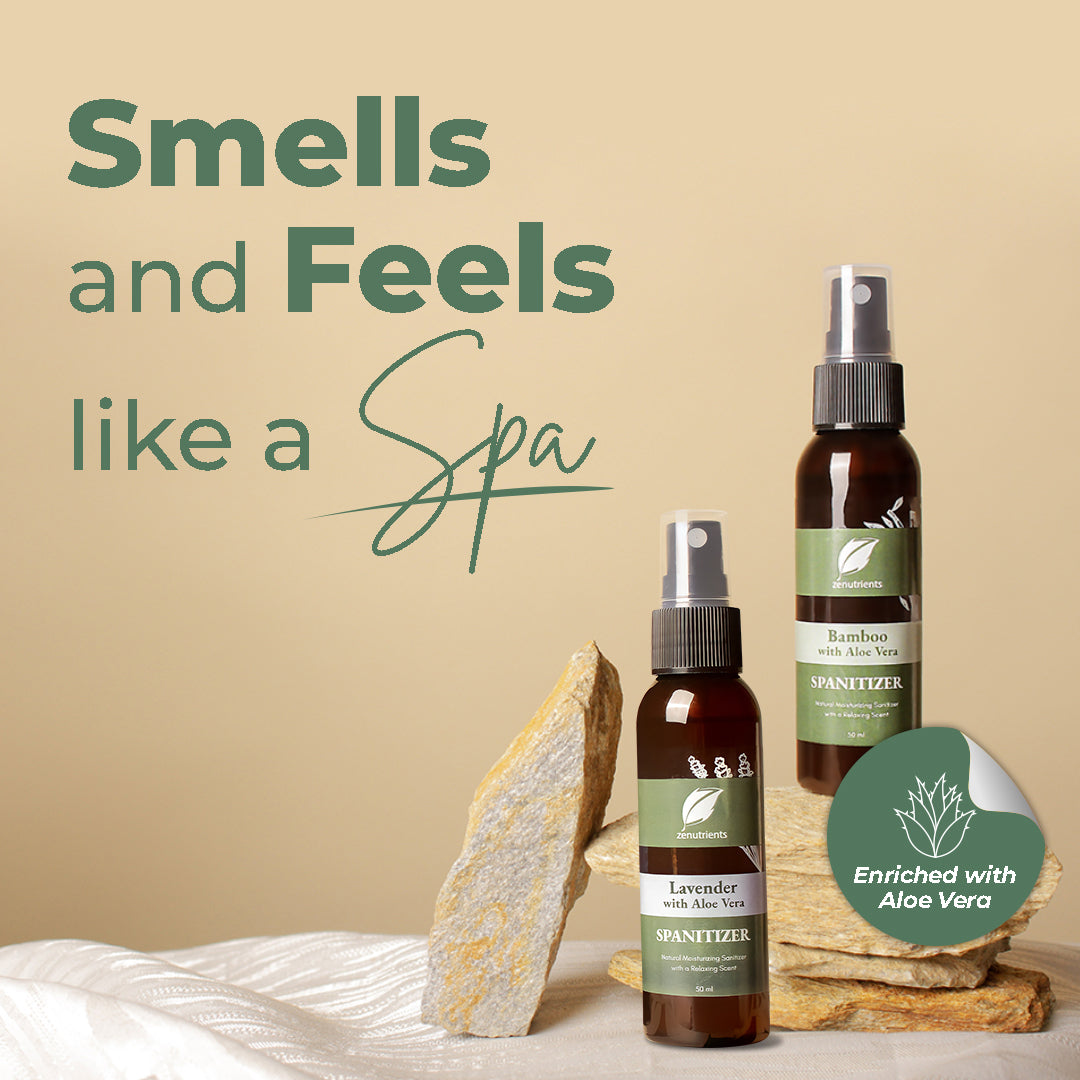 Spanitizer: Say Aloe to Your New Favorite Hand Sanitizer!
Out with the old, in with the new. Let yourself find relaxation once more with our upgraded Spanitizer!
NEW AND IMPROVED SPANITIZER
Out with the old, in with the new. Let yourself find relaxation once more with our upgraded Spanitizer! This time, we welcome our beloved sanitizer with a brand new look, and new relaxing scents to take you back into your favorite spa.
Let your problems – hygienic or otherwise – melt away with this mini spa in your pocket, and feel what it's like to be pampered in an instant. With a single spritz of the Spanitizer, you can clean, soften, and relax all in one go. Through all these new upgrades, our classic Spanitizer still comes in everyone's favorite calming lavender and revitalizing bamboo scents. And that's not all—find out more uses and features you can enjoy by reading on!
OUT WITH THE OLD
The Zenutrients family fell in love with the convenience and comfort the Spanitizer line offered. First introduced as "Spahhnitizer" to place emphasis on the tension-reducing effects it provided its users. It began with just the lavender scent, while the bamboo scent was added later on. Although the product mainly rose to fame for its spa-like aromas, people everywhere held onto their beloved spa-in-a-bottle as it also contained 70% alcohol, perfect for sanitizing and moisturizing. From disinfecting hands to freshening up a room, the many uses of our Spahhnitizer in any situation made it an instant hit.
With its upgraded minimal appearance and a new name, bring your focus back to the crowd-favorite spa scents of lavender and bamboo, and enjoy the pristine feel of the all-new Spanitizer. Now, more than ever, treat your frequently disinfected hands with gentle care thanks to our newly improved formula, which now includes aloe vera! You can now sanitize as much as you want without any flakiness or drying at all! The new Spanitizer still also includes invigorating essential oils from its peppermint and tea tree extracts to help soothe your troubles away.
IN WITH THE NEW
While our classic Spahhnitizer is safe for the skin, parents can rejoice twice with this upgrade, for the new Spanitizer is also safe for children five and up! Sensitive skin need not worry with our delicate formula providing a mini getaway from dirt and stress for both kids and adults. The soothing lavender and refreshing bamboo scents offer different atmospheres to sink into amidst the hustle and bustle of everyday life.
With an awareness of maintaining proper hygiene becoming more and more valuable, the new Spanitizer can help you stay as germ-free as possible, anytime, anywhere. Each scent is available in 50ml and 100ml bottles, for keeping at home or taking around with you. Light and convenient, you won't want to miss out on this wherever you are! Think of it as convenience and tranquility contained in a single spray.

SIT BACK AND RELAX
Natural, organic, and locally made. Our Spanitizer is an absolute must-have for anybody and everybody who simply wants to let go of their worries anytime, anywhere. Prevent germ build-up with our antibacterial sanitizer consisting of 70% alcohol, and simultaneously maintain soft skin with our gentle, non-drying spa-scented formula. With the upgraded Spanitizer, take safety and softness with you everywhere, and say "ahh" whenever, wherever!
With the launch of our crowd-favorite, don't forget that you can catch both newly improved Spanitizer scents at 9% off with our Christmas set! It doesn't stop just there—you can also get 13% off a single bottle purchase by using the code ZENSPA15 on our website.

What are you waiting for? Hurry and catch these deals while they last! But stay tuned, because we definitely have more in store. 
Keep an eye out for our next blog posts which may include some tips, tricks, and other life hacks for using our newly upgraded Spanitizer to its full potential!